Production capacity
JSC «Mosmetrostroy» has a modern park of special equipment:
For tunneling of running tunnels in the most complicated engineering and geological conditions, the company's arsenal has 7 tunnel-mechanized complexes of the famous German company Herrenknecht:
earth pressure balance (EPB) – exerts pressure on the face with the help of crushed soil, located in the bottom hole;
slurry shield – Exerts an active pressure on the face with a bentonite solution.
Vertical Shaft Sinking Machine VSM-10000, allowing fast and safe construction of vertical shafts with a diameter of up to 11 meters and a depth of up to 85 meters.
Erector arm tunnel driver US-01 – completely designed and manufactured by a specialized division of the Mosmetrostroy.
Excavator combines, with the help of which the loading of watered and sticking rock.
Special purpose machinery: cranes on the road and special chassis with high carrying capacity of Liebherr, dump trucks Man and Tatra, truck mixers, concrete pumps (including self-propelled caterpillars), mobile power stations, Comacchio drilling rigs, Liebherr, Komatsu bulldozers, crawler and wheeled excavators from Atlas, Liebherr , Hitachi and the Grapple-and-Hydraulic Loader of JCB.
Specialized subdivisions of Mosmetrostroy build tunnels and metro stations with cut-and-cover and tunneling methods in any hydrogeological conditions with the use of various technological equipment.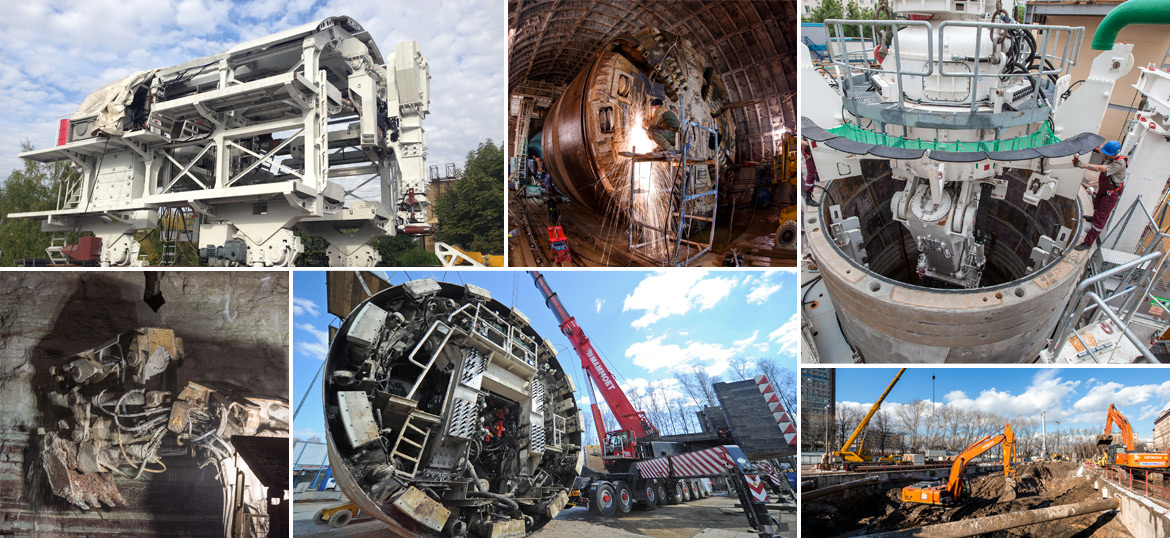 Cut-and-cover method
The сut-and-cover method is used in the construction of underground structures of shallow laying (up to 20 meters) in a previously excavated pit at full depth.
By this method, the company's specialists build:
running tunnels (однопутные или двухпутные);
metro stations;
congresses cameras;
line ends;
all tunnel and station constructions (ventilation chambers and channels, traction-lowering substations).
Tunneling method
The construction of tunnels and deep-station stations is one of the most difficult jobs in metro construction. Their construction is conducted without opening the surface of the earth at a depth of 80 meters using shafts or chambers for supplying materials and issuing soil.
In strong, stable rocks, a mining method of penetration is advisable, with the opening of each tunnel of the station to a full profile and the erection of a prefabricated lining using special stackers. In soft and inadequately resistant rocks, station tunnels are built in the shield way.