JSC Mosmetrostroy is a diversified construction company that carries out on a contract basis construction of underground facilities, underground, transportation, civil and other structures from scratch. Metrostroy was established in 1931 and laid the foundations of the domestic metro construction. The first line of the Moscow metro was built in record time and put into operation on May 15, 1935.
Reconstruction of the lobby of the station «Petrovsko-Razumovskaya»
(Serpukhovsko-Timiryazevskaya line)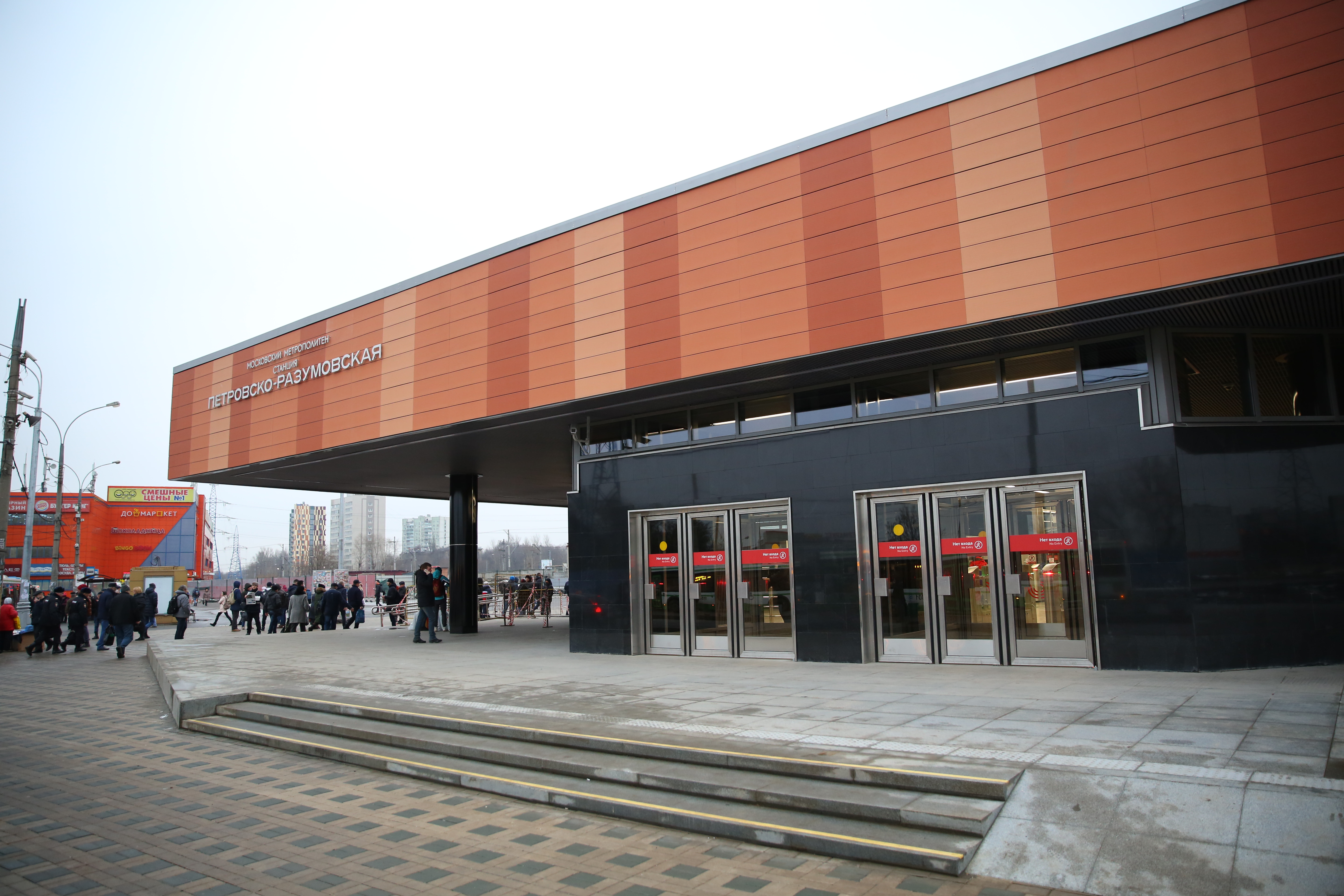 Moscow Metrostroy completed the reconstruction of the northern lobby of the station «Petrovsko-Razumovskaya» of Serpukhovsko-Timiryazevskaya line of the Moscow metro, which was closed to passengers at the end of January 2017.
Over the past time of operation, taking into account the large passenger traffic, it has become obsolete both morally and physically. The existing engineering systems also needed technical re-equipment in accordance with the new requirements of the Moscow Metro. For the period of reconstruction, the passengers got to the station through the eponymous ground pavilion of the Lublinsko-Dmitrovskaya line, which was opened on September 16, 2016.
During the capital repair, the roof covering, the cornice structures, the suspended ceiling, the windows in the ticket offices and the central part, the ventilation grilles, the inner and outer lining of the vestibule were completely dismantled. All disassembly work was carried out on a total area of more than 2,000 m².
The color decision of the lobby is designed taking into account the single complex of the entire line. The upper part of the facade made of voluminous ceramics of terracotta shades with falling parts of glass and black marble gives the building a modern look and sets the scale of the surrounding buildings. The interior architecture is distinguished by a contrasting combination of gray flooring and black facing of columns and walls, large glazed openings and a shallow cell of a false ceiling.
At the reconstruction of the lobby the best modern materials have been used, whose service life with proper care is at least 50 years. This natural marble, granite, stainless steel, as well as fireproof cables and impact-resistant glass.
OBJECT CHARACTERISTICS:
The station's lobby is ground-level, combined with the same pavilion of the Lublinsko-Dmitrovskaya line, connected to the station by four-way escalators.
LOCATION:
Northern Administrative District, Timiryazevsky District. Exit to the city to the intersection of the street of the Oktyabrskaya Railway Line and the Locomotive Passage.
OPENING DATE:
March 1, 1991.
DATE OF OPENING AFTER RECONSTRUCTION:

December 30, 2017.